Steamist DSMP-Steam Bath Generator  is engineered for day spa steam rooms up to 550 adjusted cubic feet (ACF).
Control System is sold separately.
If you see a lower price on the Steamist DSMP-12 commercial steam generator, call us, and we'll beat it, plus 10% of the difference!
The Steamist DSMP-12 is engineered for day spa steam rooms up to 550 adjusted cubic feet (ACF).
The DSMP-12 day spa steam generator is engineered to provide years of dependable and maintenance-free operation. Constructed of durable stainless-steel throughout, the DSMP-12 generator is designed for daily use in professional day spas, health clubs, and other commercial wellness facilities.
Steamist DSMP generators include a stainless-steel tank, professional-grade stainless-steel heating elements, AutoDrain cleaning system, automatic drain valve, LED lights for diagnostics, and a variety of other features.
Equipped with the latest technology, the DSMP-12 provides bathers with the most consistent steam bathing experiences. The steam unit is equipped with the advanced SteadySteam technology which maintains temperature preferences without any unexpected temperature fluctuations.
To meet the demands of a commercial day spa steam room, the DSMP-12 generator includes the powerful Auto Drain cleaning system. The Auto Drain automatically drains the generator tank after each use to help prevent harmful mineral build-up and to ensure the optimal performance of the unit. For added convenience, the Auto Drain may be used with the available Steamist Generator Drain Pan.
The Steamist DSMP-12 12kW commercial steam generator is available in 240V single-phase (1PH) and 208V single-phase (1PH) and three-phase (3PH) configurations.
The generator requires the use of a Steamist control or control package for operation. Steamist controls are available in a variety of stylish finishes. Select the available control with features that best suit your facility needs.
The DSMP-12 generator carries a limited lifetime warranty and is fully serviceable. Steamist commercial steam shower generators are UL and CUL listed to ensure safety and quality.
SteamSaunaBath is proud to be an authorized Steamist partner and offer the best steam showers from Steamist for day spas and health clubs. We offer the complete line of Steamist products.
We guarantee the lowest price. If you see steam showers for sale at a lower price, give us a call, we'll beat it! See our guaranteed price policy for details.
SteamSaunaBath is the bathing environment expert. We specialize in steam room and sauna design, sales, installation, maintenance, and repair services. Our half-century of hands-on experience means that we are uniquely qualified to ensure the success of your bathing space and an unparalleled steam bathing experience. Contact a SteamSaunaBath technical bathing specialist to help you build your steam room: (800) 707-2862.
For steam baths sized from 451 to 550 adjusted cubic feet
Available in 240V and 208V operation
Stainless Steel Construction
SteadySteam technology with 2-stage, industrial grade heating element
Modular "snap-in" control connections
Durable electronic components
Electronic water-level control system
Low voltage safety control circuits
Solid-state circuitry
Auto Drain automatic draining system standard
Operates with inside/outside shower, on/off, time/temperature controls
Diagnostic LED Displays
Full port drain valve
ASME safety valve
UL 499
UL/CUL Listed
City of LA - Approved
City of New York - M.E.A. Approved
12.0KW Steam bath generator, 23-1/4"L x 7-1/2"W x 15-1/2"H
Automatic drain valve, 1/2" NPT
6-pin, 6-wire control cable, 35' long with "snap-in" connectors
Installation and operation manual
Limited warranty
| Model | DSMP-12 |
| --- | --- |
| Minimum Adjusted Cubic Feet | 451 |
| Maximum Adjusted Cubic Feet | 550 |
| Shipping Weight (Lbs.) | 43 lbs |
| Kilowatt Rating (KW) | 12.0 KW |
| Electrical Specifications | (refer to Electrical chart) |
| Water Supply Connection | 3/8" Compression Connection |
| Generator Steam Line Connection | 3/4" NPT |
| Steam Head Connection | 3/4" NPT |
| Drain Connection | 1/2" NPT |
| Safety Relief Valve Connection | 3/4" NPT |
| Safety Relief Valve PSIG | 8 PSIG |
| Control "Rough In" Cut Out | 1-1/2" Diameter |
| Generator Control Connection | 6-Pin, Snap-In Connector |
| Generator Control Cable | 35', 6-Conductor, 22 AWG, Shielded Cable |
| Width | 23-1/4" |
| Depth | 7-1/2" |
| Height | 15-1/2" |
| Clearance Width | 32" |
| Clearance Depth | 20" |
| Clearance Height | 22" |
Required for Operation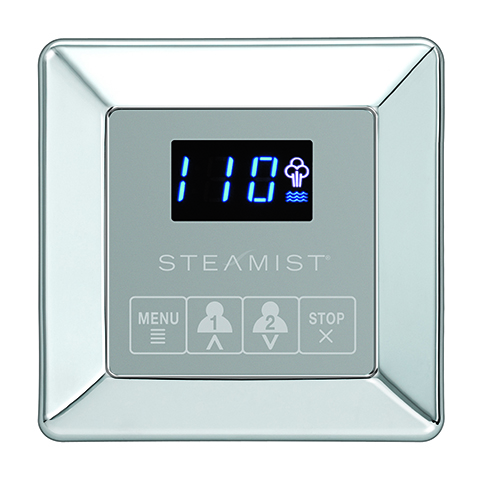 Designed for use with the TSG or SMP steam generators, the Steamist 250 steam shower control package is programmable for two user settings of temperature and duration. 

The Steamist 250 features an easy-to-read soft touch keypad, allowing bathers to easily navigate through settings. The Steamist 250 digital control system features the innovative dual-temperature sensor technology for superior temperature control.