PRO Series 6kW Steam Bath Generator
This product has been Discontinued- Please see ThermaSol PROIII-84
The ThermaSol PRO-84 is designed for home steam baths with dimensions up to 84 adjusted cubic feet (ACF).
Required control package sold separately.
If you see a lower price on the ThermaSol PRO-84 steam generator, call us, and we'll beat it, plus 10% of the difference!
The ThermaSol PRO-84 is engineered for home steam rooms up to 84 adjusted cubic feet (ACF).
The ThermaSol PRO-84 steam shower generator includes professional-grade heating elements, durable electronic components, an integral drain pan, a thermostatically controlled retractable steam head, and a variety of other features.
The PRO-84 steam unit is constructed of durable and corrosion-resistant stainless steel throughout for years of dependable and worry-free operation. The generator features Fast Start technology which produces steam quickly and efficiently.
ThermaSol PRO Series generators are equipped with the patented SmartSteam feature which generates the precise amount of steam to maintain desired temperatures. The steam shower unit features a split tank design which ensures a consistent and continuous steam production.
The PRO-84 is equipped with advanced CAN-bus digital technology which provides reliable two-way communication between the generator and the control. The unit is perfect for any steam shower kit.
The generator includes the powerful Auto PowerFlush inner-tank cleaning system. The PowerFlush automatically drains the generator tank to help prevent calcification and to ensure the best performance from the generator.
The ThermaSol PRO-84 steam bath generator accepts voltage in the range of 208V-240V, single-phase (1-PH) configuration.
The unit requires the use of the available Signature Series, Microtouch, or ThermaTouch control for operation. Controls can be paired with the Solitude Wireless mobile app to adjust bathing duration, temperature, and other features. Select the available control with features that best suits your preferences.
The ThermaSol PRO-84 generator is fully serviceable and carries a limited lifetime warranty. All ThermaSol residential steam showers are UL and CSA listed for your safety.
SteamSaunaBath is proud to be an authorized ThermaSol partner and offer the best steam showers from ThermaSol for homes and health clubs.
We guarantee the lowest price. If you see steam showers for sale at a lower price, give us a call, we'll beat it! See our guaranteed price policy for details.
SteamSaunaBath is the bathing environment expert. We specialize in steam room and sauna design, sales, installation, maintenance, and repair services. Our half-century of hands-on experience means that we are uniquely qualified to ensure the success of your bathing space and an unparalleled steam bathing experience. Contact a SteamSaunaBath technical bathing specialist to help you build your steam room: (800) 707-2862.
Note: Generators sizing are listed based on Thermasol's theory on "Simple Sizing" of Cubic Feet = Length X Width X Height. No adjustments for materials.
FastStart technology standard
SmartSteam technology standard
"Whisper Quiet" operation
Industrial grade, serviceable heating element
Integral drain pan with 3/4" NPT fitting
Pre-plumbed pop-safety valve to drain pan
Stainless steel design inside and out
Plug-in "220 volt" electrical connection
Durable electronic components
Electronic water-level safety system
Secondary electronic water-level control system
Mechanical water-level control operating system
Auto PowerFlush pressurized maintenance system
Water tight data link control cable
Low voltage safety control circuits
Operates with waterproof sound and light system
CSA/CUL listed
ASME safety valve
50' long data link control cable
Brass steam head housing
Installation and operation manual
Limited Warranty
| Model | PRO-84 |
| --- | --- |
| Minimum Adjusted Cubic Feet | 1 |
| Maximum Adjusted Cubic Feet | 84 |
| Kilowatt Rating (KW) | 6 KW |
| Shipping Weight (Lbs.) | 31 lbs |
| AC Voltage | 240V AC |
| Phase | Single Phase |
| Nominal Amperage | 28 Amps |
| Recommended Protective Device | 30 Amp |
| Recommended Minimum Copper Wire Supply | 10 AWG |
| Water Supply Connection | 3/8" NPT |
| Generator Steam Line Connection | 1/2" NPT |
| Steam Head Connection | 1/2" NPT |
| Safety Relief Valve Connection | 3/4" NPT |
| Safety Relief Valve | 1-1/16" |
| Control "Rough In" Cut Out | 1-1/16" |
| Generator Control Connection | CAN-Bus Connection |
| Generator Control Cable | 50' Data Cable |
| Width | 17" |
| Depth | 11-1/2" |
| Height | 12" |
Required for Operation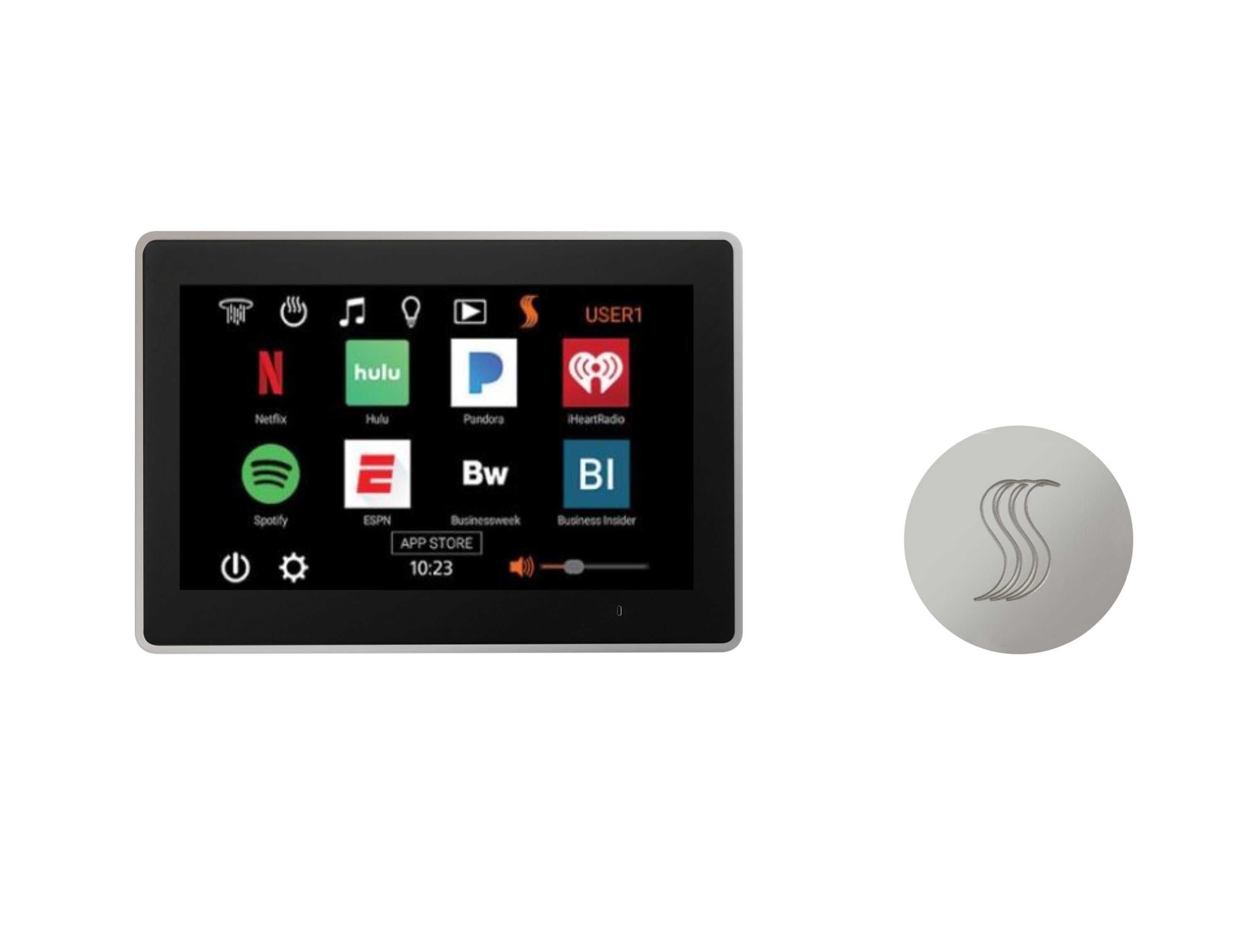 ThermaTouch Control 10", SteamVection Steam Head, Round
Designed for use inside the steam shower, the ThermaSol ThermaTouch 10" LCD in-shower touchscreen controller manages all aspects of the smart shower and steam generation, including steam duration and temperature. You can access a variety of popular apps while setting the steam, lights and music to your exact preferences.
See Technical tab for Finish availability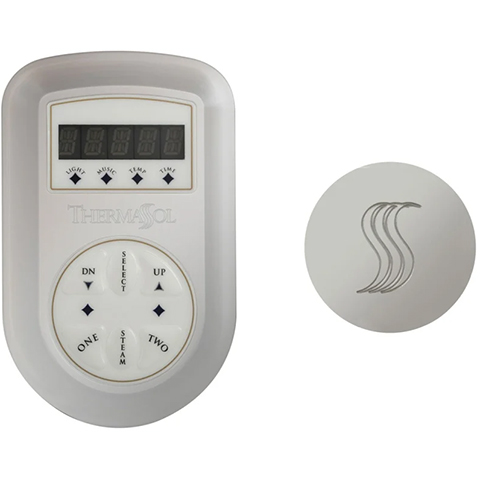 Signature Series Steam Shower Kit, Contemporary Flushmount Style, SV Round
Designed for use with the ThermaSol Pro Series or AF Series of steam generators, the ThermaSol Signature Series round control kit is an easy and convenient way to control steam room functionality from inside the shower.
Steam Generator Sold Separately 
See Technical tab for Finish availability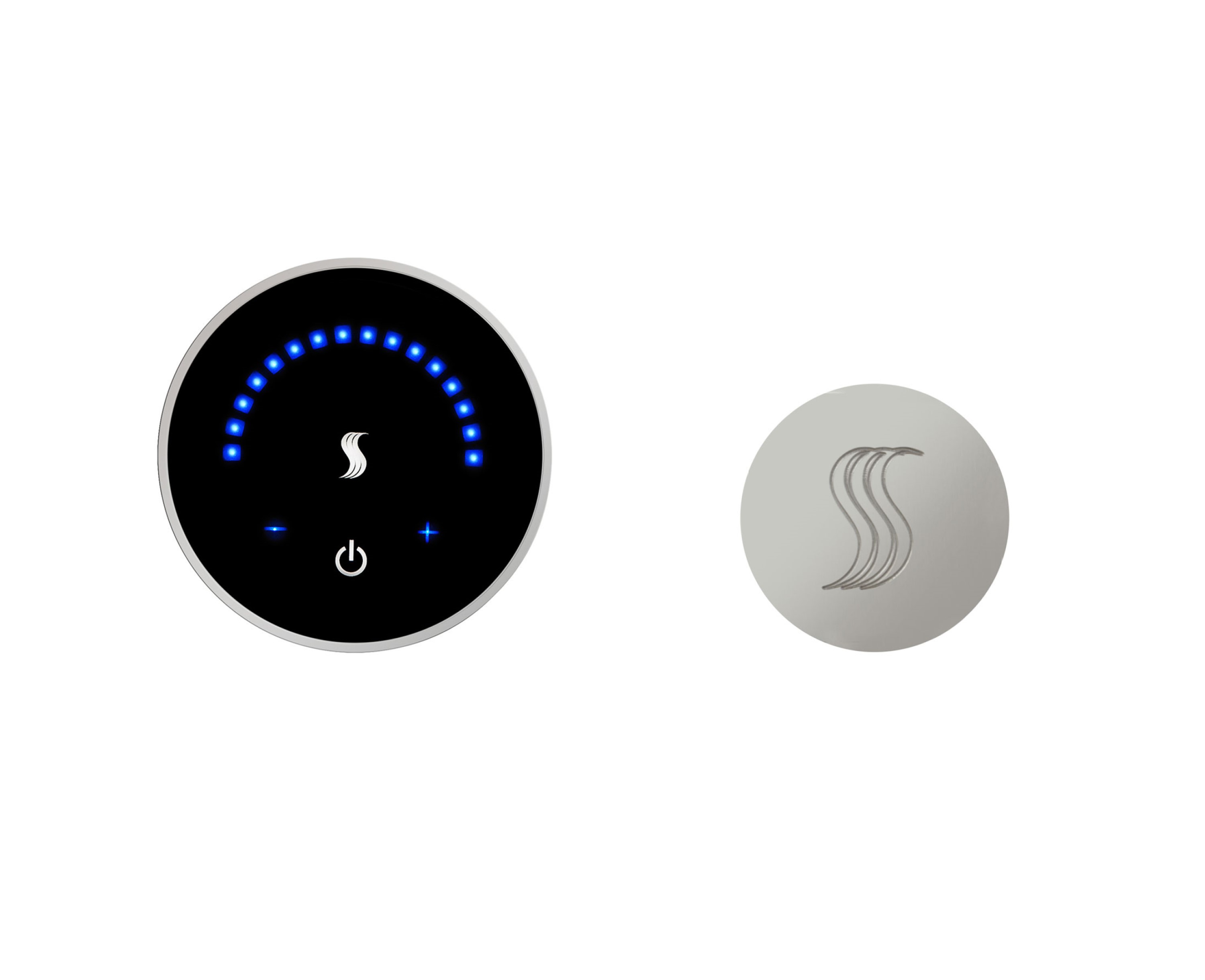 MicroTouch Steam Shower Control w/SteamVection Steamhead, Flushmount
The ThermaSol MicroTouch Control kit offers control of steam room functionality from inside the steam shower. This package includes MicroTouch Control and SteamVection Steamhead. Available in 15 designer finishes.
See Technical tab for Finish availability