Designer S Series 6.0kW Sauna Heater
The Amerec Designer S Series DSNR-60S 6.0 kilowatt sauna heater with built-in controls is engineered to power sauna rooms up to 300 cubic feet (CF).
Must order SC Control Separately.
The Amerec Designer-60S electric sauna heater powers sauna rooms with dimensions up to 310 cubic feet (CF).
 
As an industry-leading manufacturer for the last half-century, Amerec sauna heaters generate intense, penetrating heat. The Designer-60S features a durable and corrosion-resistant stainless-steel body and industrial-grade heating elements for years of safe and reliable operation. 

Amerec Designer-S heaters are engineered to heat the sauna room quickly and efficiently. The Designer-60S features a 50-pound rock capacity for optimal heat dispersal.
 
The Designer-60S has a power rating of 6 kilowatts and is available in 240V single-phase and 208V three-phase configurations. 

The unit requires the use of a SC digital control for operation. Select the available control with features that best suit your bathing preferences.
 
The Designer 60S features a limited lifetime warranty, and unlike cheap imitations, is fully serviceable. Amerec sauna heaters are UL listed for unparalleled safety and quality. 

SteamSaunaBath is proud be an authorized Amerec partner and offer the full line of Amerec sauna heaters.

We guarantee the lowest price. If you see a lower price advertised for this item elsewhere, give us a call!

SteamSaunaBath is the bathing environment experts. We specialize in sauna and steam room design, sales, installation, maintenance, and repair services. Our half-century of hands-on experience means that we are uniquely qualified to ensure the success of your bathing space and an unparalleled sauna experience. To contact a SteamSaunaBath Bathing Specialist, call: (800) 707-2862.
Wall-mounted
Stainless steel construction
Industrial grade, serviceable heating elements
Operates with SC Series Controls
Exceptionally large rock capacity
Direct rock-to-heating element contact
UL listed
For sauna rooms from 175 to 310 cu. ft.
6.0KW Heater, 23"H x 16-1/2"W x 11"D
50 Lbs. of Olivine sauna stones
Installation Manual
Limited Warranty
| Model | DSNR-60S |
| --- | --- |
| Shipping Weight | 86 lbs |
| Minimum Cubic Feet | 175 |
| Maximum Cubic Feet | 310 |
| Kilowatt Rating | 6.0 KW |
| Electrical Data by Voltage/Phase Selected | Heater Electrical Chart (see pdf) |
| Width | 16-1/2" |
| Depth | 11" |
| Height | 23" |
Required for Operation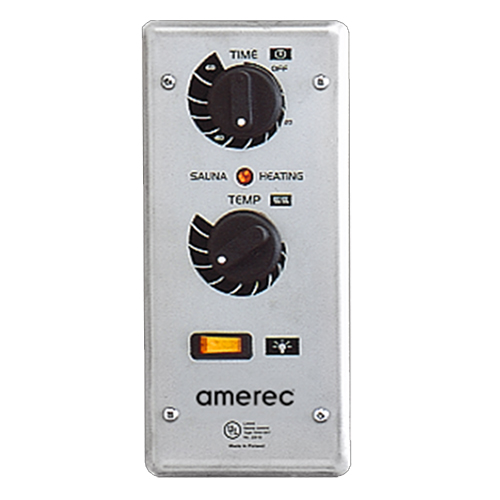 Sauna Control - On/Off/Timer & Temperature, SC-60/C103-60
The Amerec SC-60 sauna control panel is a wall-mounted sauna control with a 60-minute timer, lightswitch, adjustable thermostat control, heat indicator light, and stainless steel faceplate. Flush mounted.
Must use with CB7 contactor for selected phase.