Designer Pure Series 6kW Sauna Heater
The Amerec Designer Pure Series Trend-60S 6 kilowatt sauna heater is engineered to power sauna rooms up to 300 cubic feet (CF).
Must order Pure 2.0 Control Separately.
The sauna heater is the heart and soul of the sauna room. Featuring the latest technology and finest materials, the Designer Trend 60 blankets the room with waves of deep, penetrating heat.
The unit is equipped with a durable stainless-steel body and professional-grade heating elements for years of dependable and worry-free operation. The heater features a 50-pound rock capacity and direct contact with the heating elements, resulting in a more even and consistent heat.
The Designer-Trend 60 sauna heater has a power rating of 6 kilowatts and is available in 240V and 208V single-phase and three-phase configurations.
The unit requires the use of the available A30 sauna heater control for operation.
The Designer Trend 60 carries a limited lifetime warranty and, unlike cheaper units, is fully serviceable and designed to last a lifetime. All Amerec electric sauna heaters are UL listed to ensure quality and safety.
SteamSaunaBath is proud to be an authorized Amerec partner and offer the full line of Amerec products.
We guarantee the lowest price. If you see a lower price advertised for this item elsewhere, give us a call!
SteamSaunaBath is the bathing environment experts. We specialize in sauna and steam room design, sales, installation, maintenance, and repair services. Our half-century of hands-on experience means that we are uniquely qualified to ensure the success of your bathing space and an unparalleled sauna experience. To contact a SteamSaunaBath Bathing Specialist, call: (800) 707-2862.
NOTE: Additional Freight Charges May Apply.
Wall-mounted
Stainless steel construction
Industrial grade, serviceable heating elements
Operates with A30 Control
Exceptionally large rock capacity
Direct rock-to-heating element contact
UL listed
26" x 20" x 14"
For sauna rooms from 175 to 310 adj. cu. ft.
Heater
50 lbs. of Vulcanite sauna stones
Installation Manual
Limited Warranty
| Model | Designer Trend 60 |
| --- | --- |
| Shipping weight | 85 lbs |
| Minimum Adjusted Cubic Feet | 175 |
| Maximum Adjusted Cubic Feet | 310 |
| Kilowatt Rating | 6.0KW |
| Voltage | 240V |
| Phase | 1PH |
| Nominal Amps | 25amps |
| Width | 20" |
| Depth | 14" |
| Height | 26" |
Required for Operation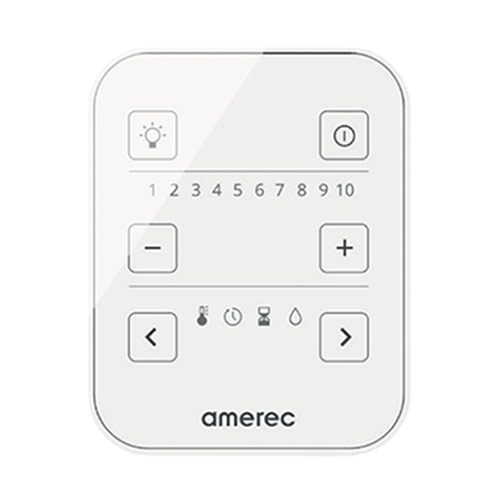 Trend Control, A30, Sauna Heater Control
Amerec's A30 Control Panel provides complete control of your sauna heater and lighting. Program your sauna for continuous operation, or use the option of a preset time. The A30 Control unit also features a delayed start function allowing you to set the automatic power-on with a delay from 1 to 10 hours.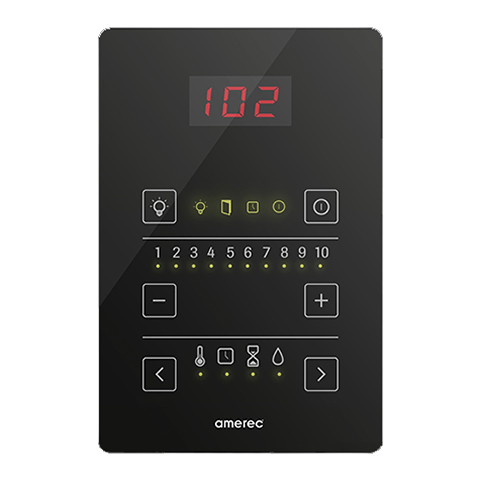 Pure2.0 Sauna Control Package
Designed for use with the Amerec Fonda-Trend and Designer Trend Series, the soft-touch Amerec Pure2.0 sauna control package allows bathers to control sauna duration, temperature, and lighting. The unit includes a delayed start feature to pre-heat the sauna room up to ten hours in advance.