HC Series Commercial Steam Room Generator, 36kW
The Steamist HC-36 is a 36kW electric steam room generator is engineered for automated, around-the-clock operation of the most demanding commercial health club steam rooms.
See Shipping Tab
The HC-36 commercial steam generator can power steam baths with dimensions from 1,250 to 1,500 adjusted cubic feet (ACF).
The Steamist HC-36 unit includes a 36-kilowatt professional-grade heating element, a pressurized vessel for efficient operation, durable electronic components, a high-limit pressure control with manual reset, a DCCP digital control package, and a variety of other noteworthy features.
Commercial facilities across the country rely on the Steamist HC-36 commercial steam boiler for easy maintenance and hands-off operation. The HC-36 is UL-listed and ASME-authorized to ensure safety and quality. All Steamist HC Series generators are delivered factory wired and assembled to assure that each unit is working perfectly.
The HC-36 steam shower generator comes with the programmable DCCP digital control package which allows facility operators to remotely adjust steam room duration, max temperature, idle temperature, weekly operating schedules, and power settings. Each additional steam room requires the use of the available SRP Second Room package.
The Steamist HC-36 generator is available in 208V single-phase (63601), 208V three-phase (63603), 240V single-phase (63600), 240V three-phase (63602), and 480V three-phase (63604) configurations.
We recommend the addition of the available Steamist DC-ABD Digital Automatic Blowdown Valve with your Steamist HC-36 unit. The DC-ABD Blowdown valve drains the boiler tank to help prevent calcification and lime build-up. The valve includes a 24-hour clock which allows facility operators to pre-set generator drain times.
SteamSaunabath is proud to be an authorized Steamist partner and offer the full line of Steamist products and parts.
We guarantee the lowest price. If you see a lower price advertised for this item elsewhere, give us a call!
SteamSaunaBath is the bathing environment experts. We specialize in steam room and sauna design, sales, installation, maintenance, and repair services. Our half-century of hands-on experience means that we are uniquely qualified to ensure the success of your facility's bathing space and an unparalleled steam bathing experience. To contact a SteamSaunaBath Bathing Specialist, call: (800) 707-2862.
NOTE: Additional Freight Charges May Apply.
HC Boiler
Industrial grade heating element
Pressurized vessel for instant steam operation
Durable electronic components
Built to ASME code
Available automatic system for daily blowdown
Operates with electronic steam room temperature control
Full 1" drain port
Operating, electronic high limit and ASME safety valve pressure systems
UL listed and built to ASME B & PV code
Sight glass
DCCP Digital Commercial Control Package
Digitial touchpad
Programmable time user control
"Idle" energy conservation mode
7-day, 24-hour programmable timer
Up to 6 daily programmable settings changes
HC-PCMR Auxiliary Manual Reset Pressure Cutoff
DCC Digital Command Center control with 50' cable
User Bypass Control with 50' cable
Room Sensor with 50' cable
Control Module
Steam Solenoid, factory installed
Steamhead with Cool Sense cover
Installation and operation manual
Limited warranty
| Model | HC-36 |
| --- | --- |
| Minimum Adjusted Cubic Feet | 1251 |
| Maximum Adjusted Cubic Feet | 1500 |
| Kilowatt Rating | 36 KW |
| Shipping Weight | 200 lbs. |
| Water Supply Connection | 1/2" NPT |
| Generator Steam Line Connection | 3/4" NPT |
| Steam Head Connection | 3/4" |
| Drain Connection | 3/4" |
| Safety Relief Valve Connection | 3/4" NPT |
| Safety Relief Valve | 15 PSIG |
| Control Sensor Cable | 2 Conductor, 22 AWG, Shielded Cable |
| Control Sensor "Rough In" Cut Out | 5/8" Diameter |
| Generator Control Connection | 3 Wire Nuts |
| Generator Control Cable | 3 Conductor, 22 AWG, Shielded Cable |
| Width | 39" |
| Depth | 22" |
| Height | 28" |
The weight or packaging of this product requires delivery by special appointment, and on a wooden pallet. 
  The driver is responsible for curbside delivery "only" and will lower the items to ground level. 
  Prior to shipping this product, we contact customers to share shipment details and discuss any extenuating delivery circumstances that may complicate or cause additional delivery expenses. 
  Our goal is to ensure your project success.
Required for Operation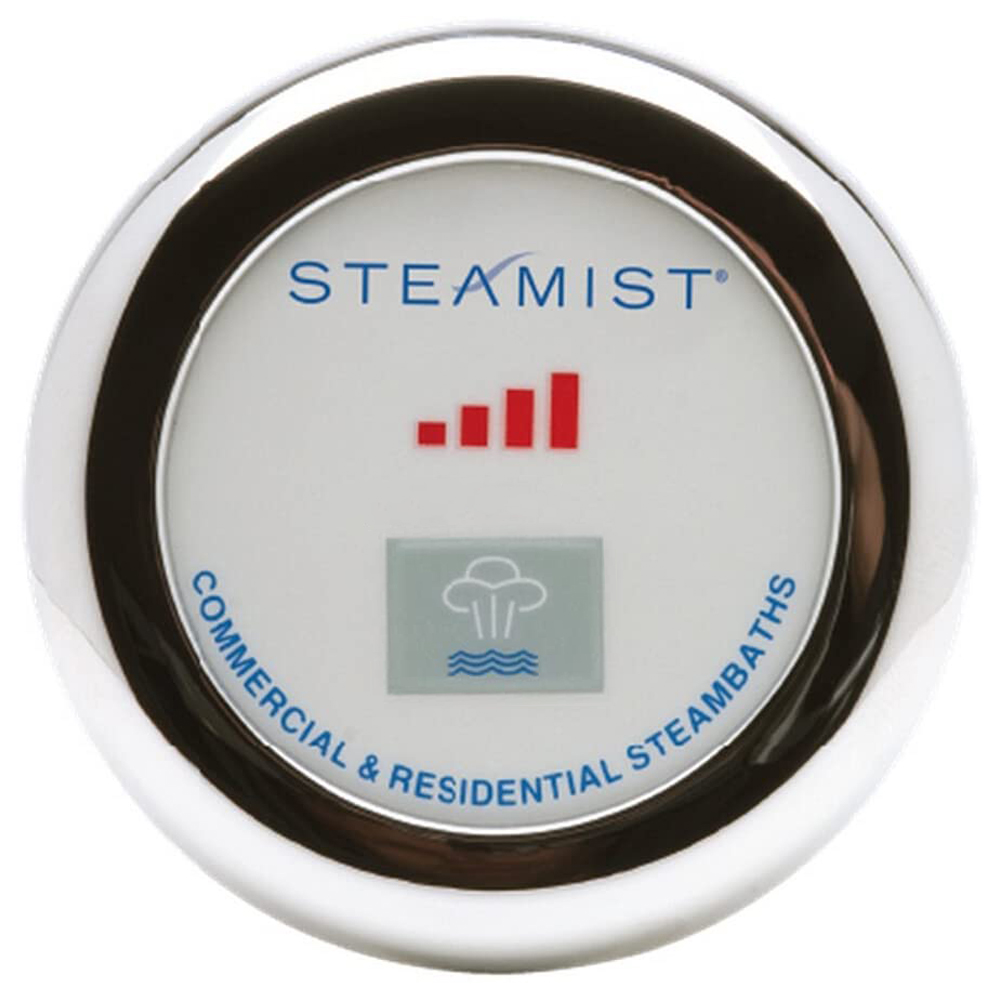 Second Room Control Package
Designed for use as a second room control with the HC Series of Steam Boilers, the Steamist SRP control package comes complete with an additional user bypass control and cable, a room sensor and cable, a steam solenoid pre-assembled to the generator, and a steam head.
**NOTE:  Only sold with boiler.