PRO Series I Essential Steam Shower Generator, 8kW w/Fast Start
ThermaSol's PRO Series Steam Shower Generators combine the latest technology with ThermaSol durability, performance, and efficiency to ensure a consistent steam shower experience every time. Featuring Constant Steam, Split Tank, and Fast Start exclusive technologies, the ThermaSol PROI-140 is a 8kW home steam shower generator designed for steam baths with dimensions 85 to 140 adjusted cubic feet (ACF). A welcome addition for any bathing enthusiast, The PROI Series has reset expectations for achieving modern wellness at home.
Required control package sold separately
If you see a lower price on the ThermaSol PROI-140 steam generator, call us, and we'll match it, plus 10% of the difference!
The all-new ThermaSol PROI-140 is engineered for home steam rooms with dimensions measuring 85 to 140 adjusted cubic feet (ACF). The PROI-140 8kW steam bath generator accepts voltage in the range of 208V-240V, single-phase (1-PH) configuration.

ThermaSol Pro I Series generators are designed to provide years of dependable, maintenance-free operation. The PROI-140 is constructed of corrosion-resistant stainless-steel throughout and includes professional-quality heating elements.

The PROI-140 steam shower unit provides a consistent home steam spa experience by generating steam at a constant rate with state-of-the-art efficiency technology. The unit includes the innovative Fast Start feature for quicker heat-up times.

The generator's split tank design enhances the longevity of the unit by separating the heating function from the water feed function. The PROI-140 features intelligent CAN Bus technology for reliable two-way communication between the generator and control.

The PROI-140 is compatible with the Thermatouch, Signatouch, Microtouch, Signature Control, Easy Start, Wellness Package, and Digital Shower Package. Select the available control or control package with features that best suit your bathing preferences.

The PROI-140 steam bath generator can be paired with the Serenity Light and Music Series, Hydrovive Series, and other ThermaSol steam shower accessories.

Pro I Series generators can be installed up to fifty feet away from your steam shower enclosure. Typical installation locations include closets, cabinet vanities, climate-controlled attics, and basements.

The PROI-140 generator carries ThermaSol's limited lifetime warranty and is fully serviceable. All ThermaSol steam units are UL and CSA listed for your safety.

Note: Generators sizing are listed based on Thermasol's theory on "Simple Sizing" of Cubic Feet = Length X Width X Height. No adjustments for materials.
Constant steam flow
Constant steam rate
No steam lag
No steam burst
FastStart Technology (exclusive) - steam in seconds, not minutes
Works with HydroVive and Serenity systems
Two way digital CAN-bus Technology (exclusive)
Split Tank longevity through design
240V/1PH operation
For steam rooms 85 to 140 adj. cu. ft.
Superior heating elements-Incoloy low watt density
Stainless Steel construction
Designed, engineered, and crafted in the U.S.A
Dimensions: 18" L x 23"W x 14" H
Lifetime Warranty
8kW Steam generator
In-line water screen kit
Steamhead housing installation tool
Steamhead housing and cable kit
208-240 volt power cord (5ft)
50' CAN-bus cable for the controller
Installation instructions
Static cling warning label
Warranty
| Model | PROI-140 |
| --- | --- |
| Kilowatt Rating | 8 kW |
| Maximum Cubic Feet | 140 FT |
| Amperage | 37 |
| Heater Weight | 40 lbs |
| Water Inlet | 3/8" NPT |
| Steam Outlet | 1/2" NPT |
| Safety Valve | 3/4" NPT |
| Electrical Connection | NEMA 6-50P |
| Width | 18" |
| Depth | 23" |
| Height | 14" |
Required for Operation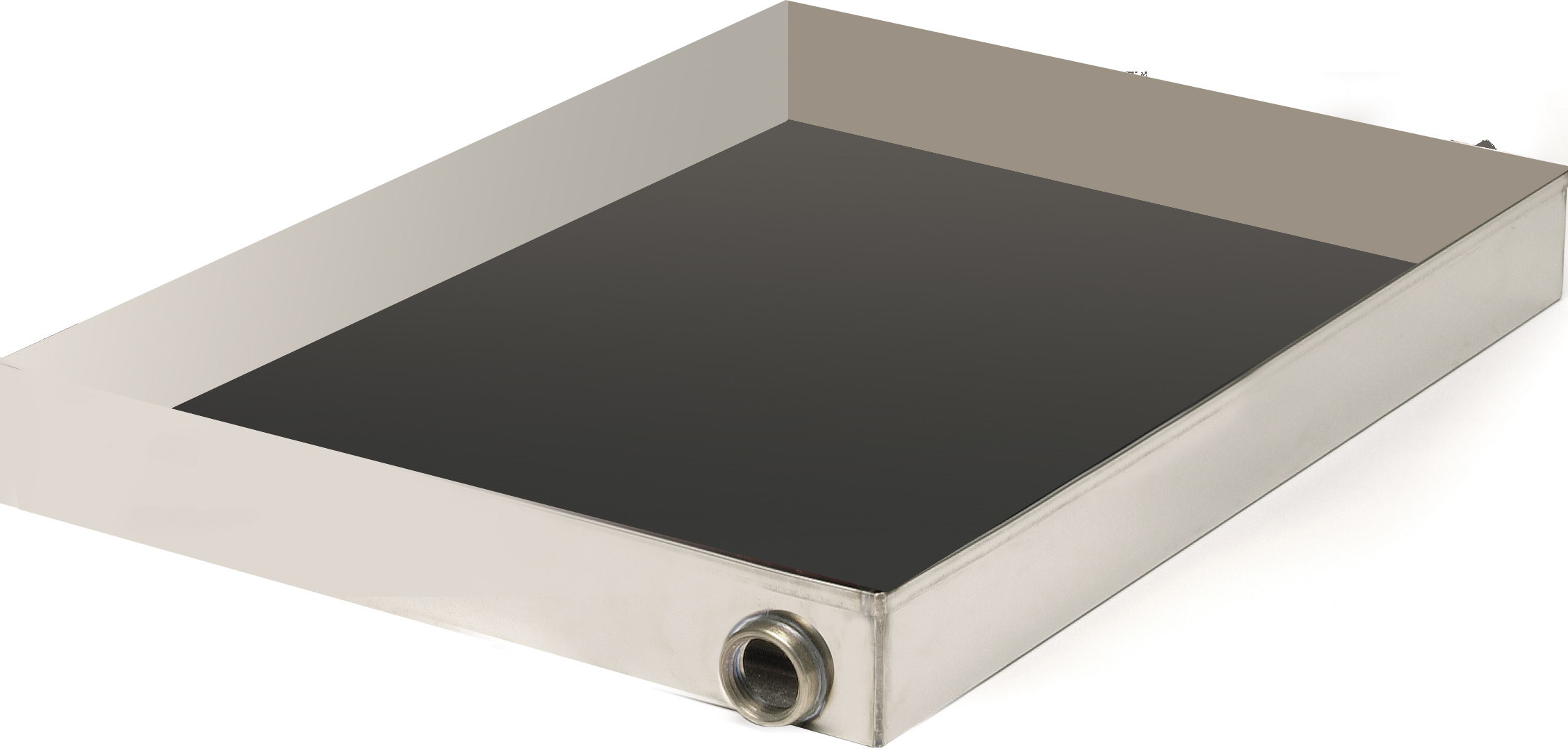 PRO Series Steam Generator Drain Pan
Designed for the unlikely event of a slow water leak, the ThermaSol Drain Pan installed beneath the steam generator will aid in the trapping and redirecting of this water to an acceptable and predetermined area.