HIVE Heat Series Sauna Stove w/ Firebox Extension
The HUUM HIVE Heat 12 LS wood-burning sauna stove features a firebox extension so that it can be heated from another room. The Heat 12 LS ideal smaller saunas up to 459 cubic feet (CF). The cast iron furnace door is incredibly durable and easy to maintain. Sauna Stones sold separately
See Shipping Tab
The firebox extension on the HUUM HIVE Heat 12 LS allows loading from another rooms so you don't need to store wood in your sauna.
HIVE Heat 12 LS is a highly efficient wood-fired sauna heater for smaller saunas. It has a unique structure where fresh air is conducted into the burning process from above to create a strong flame. This allows the burning to be very clean and makes sure that all the wood gets burned and no wood gas escapes the chimney and goes to waste like it often does with less efficient stoves.
The furnace door is made of cast iron which is incredibly durable and easy to maintain. The cast iron is treated only with natural oils without the use of chemicals.
HIVE Heat complies with strict BimSchV II, the German standard for wood-burning stoves.
Sauna stones sold separately.
Unique structure for efficient burning
Clean burning
For sauna rooms from 212 to 459 cu. ft.
Large 199-pound stone capacity (6 33lb boxes of sauna stones [Stones 24] sold separately)
Firebox extension to heat from another room
Stainless steel construction
Cast iron furnace door
Treated only with natural oils
Designed, engineered, and made in Estonia
Limited 5-year warranty
Sauna stove, 17.7"W x 25.2"D x 29.6"H
Installation and operation manual
Limited 5-year warranty (excluding elements)
| Model | HIVE Heat 12 LS |
| --- | --- |
| Kilowatt Rating | 12 kW |
| Primary Fuel | Wood |
| Stone Capacity | 198 lbs (90 kg) |
| Width | 17.7" (450mm) |
| Depth | 25.2" (640mm) |
| Height | 29.6" (750mm) |
| Weight | 147.7 lbs (67kg) |
The weight or packaging of this product requires delivery by special appointment (LTL), and on a wooden pallet. 
Please provide a contact number for your customer to facilitate the delivery appointment.  
 The driver is responsible for curbside delivery "only" and will lower the items to ground level. Your customer is responsible for maneuvering the contents into their home or facility.  
Prior to shipping this product, we prefer to call your customer to share shipment details to ensure your/their success. Should you prefer we not contact your customer, we will note your account accordingly.  
Our goal is to simplify and grow your business.
Required for Operation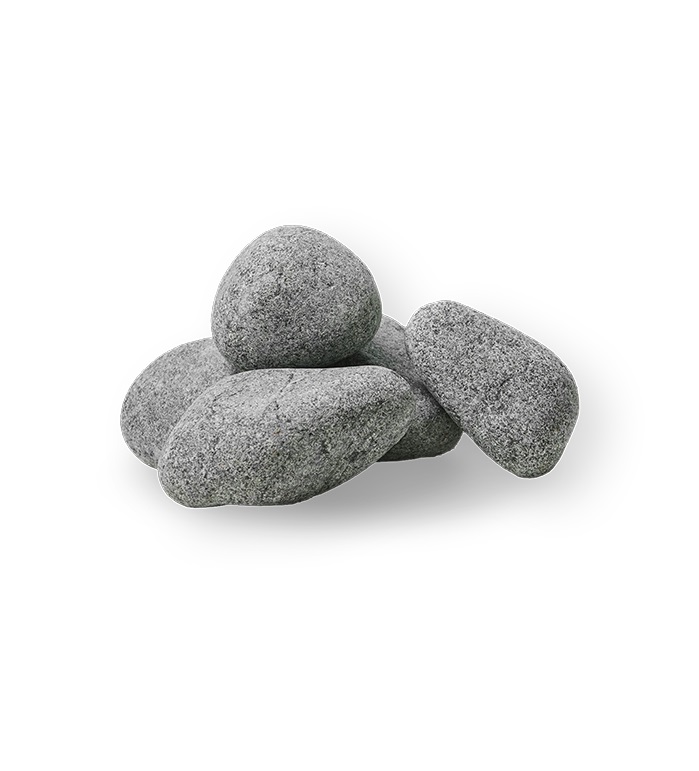 Small (5-10 cm) Sauna Heater Stones
33 lbs of 2" - 4" (5-10 cm) rounded olivine sauna stones. We highly recommend using rounded stones in HUUM heaters to complement the design and have milder steam.
See Technical tab for stone requirements
NOT SOLD WITHOUT SAUNA HEATER