FIN Series 6KW Sauna Heater
The wall-mounted Finlandia FIN-60S electric sauna heater is engineered for home saunas up to 300 cubic feet (CF) and features a polished stainless steel exterior. Stones included!
The Finlandia FIN-60 electric sauna heater is engineered for home saunas up to 300 cubic feet (CF).
The wall-mounted FIN-60 6kW sauna heater generates a satisfying, penetrating heat. The unit features industrial-grade, stainless-steel heating elements and corrosion-resistant stainless components. Its large rock capacity provides optimal heat storage.
The FIN-60 is designed so that rocks are in direct contact with the heating elements, resulting in a more even and consistent heat. The sauna heating unit features triple-wall construction which provides lower surface temperatures and added safety.
When you buy a sauna, quality and value are important. In the rich tradition of authentic Finnish saunas, the FIN-60 is engineered for years of safe and reliable operation.  Finlandia sauna heaters are made by Harvia and imported from Finland.
The FIN60 electric sauna stove provides a traditional sauna experience by blanketing the room with an intense heat. The unit is perfect for any home sauna kit.
The Finlandia FIN-60 heater is available in 240V, single-phase (1PH) and 208V, three-phase (3PH) configurations. The sauna unit may be ordered with the standard red enamel finish or the optional stainless-steel exterior (FIN-60-S).
The FIN-60 sauna heater requires a control for operation, sold separately. For 240V/1PH operation, the CX170 control or F1T control can be used. For 208V/3PH operation, the CX170 control or FT2 control with FX303 contactor can be used. For commercial applications, the FIN-60 can be run 24 hours a day with the CX170 control and 24H7D time clock, or the F2 control with its respective contactor and 24H7D time clock.
The FIN 60 carries a limited lifetime warranty and is fully serviceable. All Finlandia and Harvia sauna heaters are UL and ETL listed and tested for your safety.
SteamSaunaBath is proud to be an authorized Finlandia partner and offer the best sauna heaters from Finlandia for homes and health clubs.
We guarantee the lowest price. If you see the Finlandia FIN-60 sauna heater for sale at a lower price, give us a call and we'll match it, plus 10% of the difference! See our guaranteed price policy for details.
SteamSaunaBath is the bathing environment experts. We specialize in steam room and sauna design, sales, installation, maintenance, and repair services. Our half-century of hands-on experience means that we are uniquely qualified to ensure the success of your bathing space and an unparalleled sauna experience. Contact a SteamSaunaBath technical bathing specialist to help you build a sauna at: (800) 707-2862.
240V/1PH Operation with CX170 or F1T control
208V/3PH Operation with CX170 control or F2T control with FX303 contactor
24-Hour Operation with CX170 control and 24H7D time clock or F2 control with FX303 contactor and 24H7D time clock
Wall-mounted
Stainless steel elements
Requires wall-mounted time/temperature control
Requires contactor with F-2 and F-2T controls
Available in 240V/1PH and 208V/3PH operation
Stainless steel construction
Stainless Steel exterior
Industrial grade, serviceable heating elements
Exceptionally large rock capacity
Direct rock-to-heating element contact
24"H x 16"W x 11"D
For sauna rooms up to 300 cu. ft.
Sauna heater
50 Pounds of Igneous sauna stones
Installation and operation manual
Manufacturer's warranty
| Model | FIN-60S |
| --- | --- |
| Kilowatt Rating | 6.0 KW |
| | |
| Cubic Feet | |
| Minimum | 170 CF |
| Maximum | 300 CF |
| | |
| Weight | |
| Heater Weight | 40 lbs |
| Shipping Weight with Sauna Stones | 90 lbs |
| | |
| Nominal Amperage | |
| 240V, Single Phase | 25 Amps |
| 208V, 3-Phase | 16.7 Amps |
| | |
| Recommended Minimum Copper Wire Supply | |
| 240V, Single Phase | 10 AWG |
| 208V, 3-Phase | 12 AWG |
| | |
| Dimensions | |
| Width | 16" |
| Depth | 11" |
| Height | 24" |
Required for Operation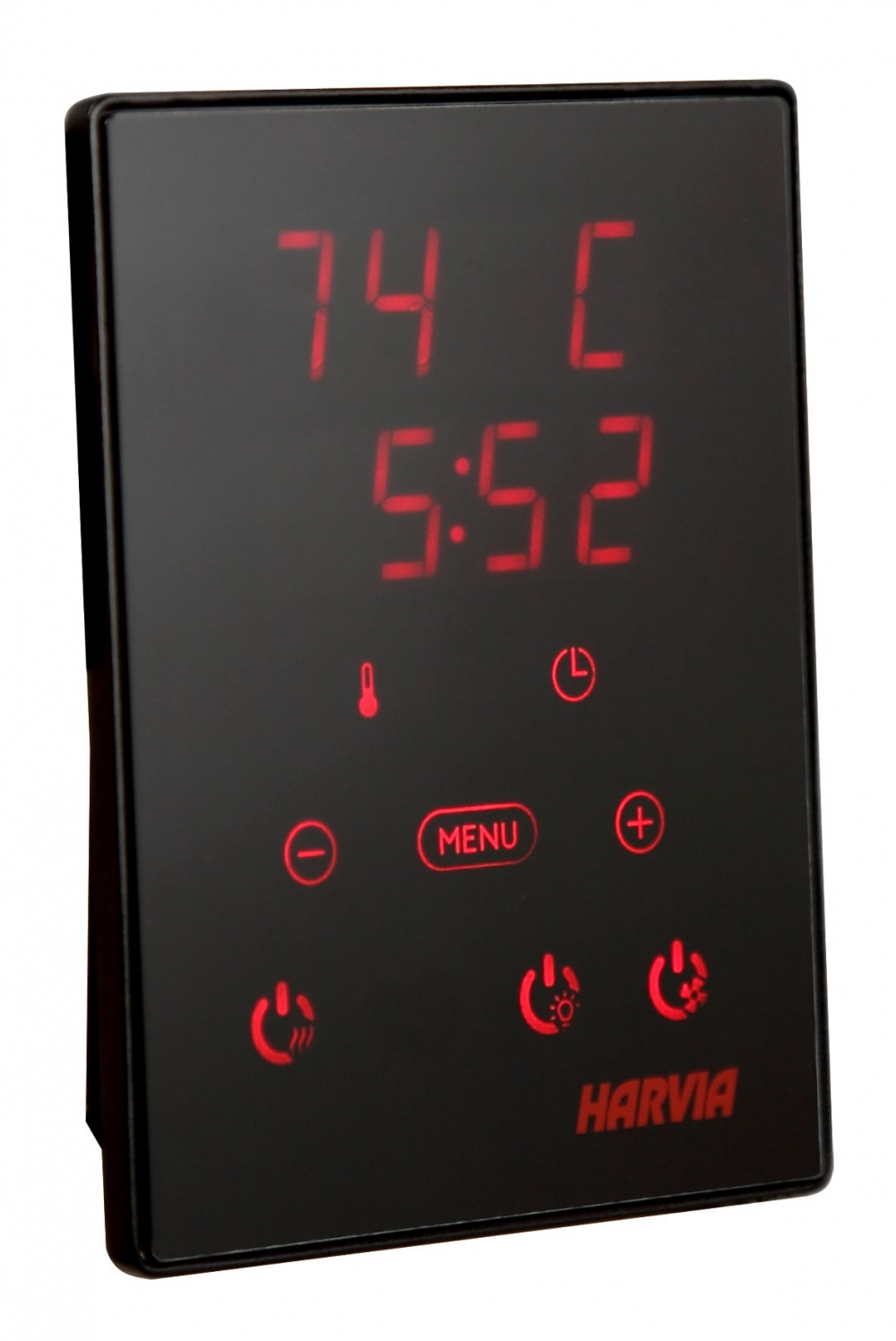 Xenio Digital Control for FIN
Finlandia Xenio CX170 is a control unit with a touch control panel. The stylishly small yet clear touch control panel is easy to install where you want it: in the sauna, the shower room, the dressing room, or even the living room. The Xenio CX170 includes a contactor box. 
Sauna heater sold separately