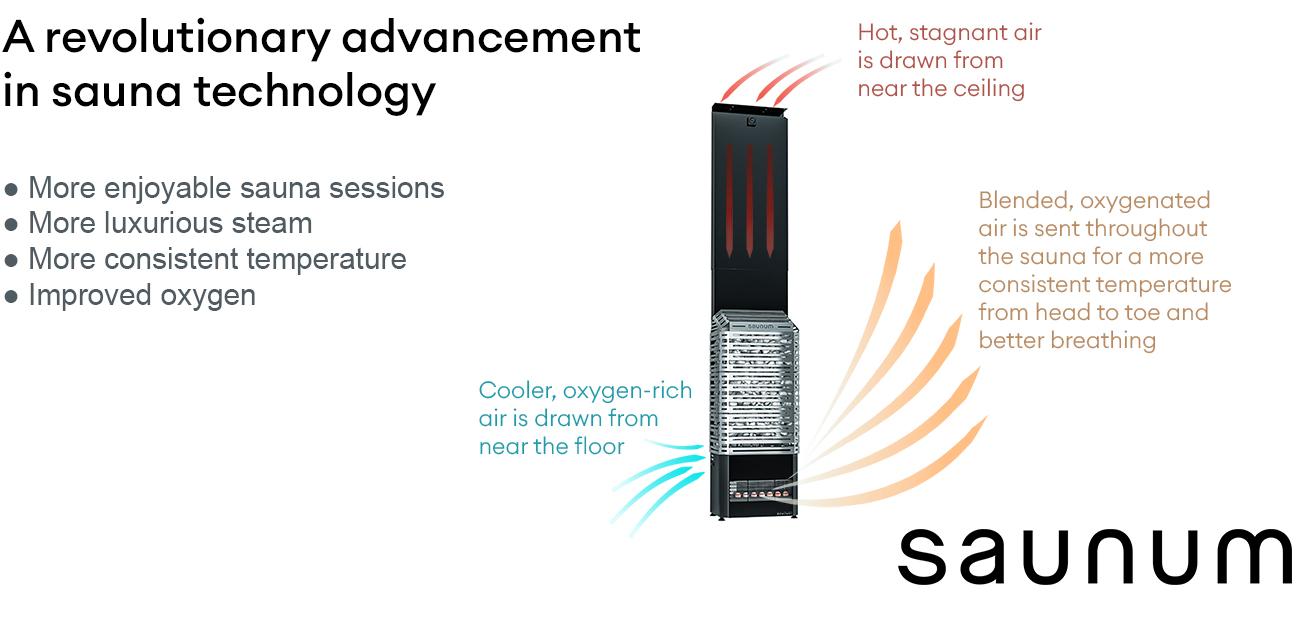 No more cold feet!
Unlike any other sauna heater, Saunum's patented air blending system mixes the heat and steam near the ceiling with the cooler, more oxygenated air near the floor to equalize the temperature and oxygen throughout the sauna. This revolutionary technology helps ensure more consistent high temperature and breathability from head to toe. Years of development and research have resulted in a proprietary heat equalization system that has produced the greatest advancement in sauna technology since the introduction of the electric sauna heater.
Go ahead and throw water on the rocks of your Saunum heater! This sensation creates a luxurious, rich steam and humidity each sauna session.
Saunum Air
Combination of AirSolo & Electric Sauna Heater
Saunum AirSolo
Can be paired with any sauna heater

Benefits of Saunum technology:
Head-to-Toe Heat – The Full Body Sauna
Better Breathing – An Oxygen Rich Sauna Experience
Estonian Sauna – Long sweats, soothing heat and rich steam are the hallmarks of an Estonian sauna.
Unmatched Steam – Designed for Water Pleasure
Convenient Control – Controlled by AIRQ Mobile app
Halotherapy – Salt Infused Airstream
Customizable Settings – Three different air flow speeds
Dry My Sauna – Purposeful Air Circulation
UL Certified – Engineered for Sauna Safety

Experience 6 distinct styles of sauna bathing
Saunum lets you customize your bathing experience by adjusting airflow, temperature, and steam to suit your exact preferences.
Russian Banya – Air blending, massive stone volume, intense heat, and steam. Heat, ventilation, and humidity merge to simulate a traditional banya.
Finnish Sauna – Harness the power of intense, dry heat for an authentic Finnish sauna. Its huge rock mass radiates intense, consistent heat.
Estonian Sauna – Long sweats, soothing heat and rich steam are the hallmarks of an Estonian sauna.
Yoga Sauna – Oxygenated airflow allows for yoga sauna experience. Even at floor level, equalized Air delivers warming heat for ideal hot yoga sessions.
Salt Sauna – A patented system propels healthful Himalayan salt ions throughout the room. Air passes across the salt chamber creating a true salt sauna.
Aroma Sauna – Not possible in most saunas, Saunum uses high humidity and air movement to bring satisfying aroma to your experience.

Saunum AirIQ Wi-Fi Control
The Saunum AirIQ Wi-Fi control unit provides complete control of Saunum heaters with power ratings up to 12kW. With the AirIQ, bathers can create a customized sauna profile and save up to three preset sauna settings (temperature, operating time, and climate device speed).
The AirIQ lets users schedule sauna sessions for a specific day and time for the week. The AirIQ is compatible with the Saunum mobile application for convenient control via smartphones or mobile device.

Enrich the air with Himalayan salt ions
The ions released from the Saunum Air's patented Himalayan salt feature are infused into the sauna to reach the skin and respiratory tract. Salt aerosol is valued for its benefits as a decongestant, reduces inflammation, and possesses anti-microbial properties.
Himalayan salt has long been used to:
Improve skin health & complexion
Improve respiratory health

About Saunum
Saunum represents a new generation of technology that transforms any sauna into a soothing spa. Their mission is to encourage more people to discover sauna as a healthy, relaxing way to maintain their health. Saunum products are proudly made in the European country of Estonia – where sauna is a pastime.
Saunum was founded in 2014 with a goal of recreating the gentle heat of a traditional smoke sauna. Their team has since spent thousands of hours researching and developing their heaters. They have collaborated with prestigious universities to create the optimal sauna product and the best possible wellness experiences.
To learn more about Saunum's innovative products and how they can be a part of your next project, call: (800) 707-2862. Our technical experts are happy to help!