Steamist Residential Steam Bath Generators and Steam Room Boilers for Home, Health Club, and Spa Steam Rooms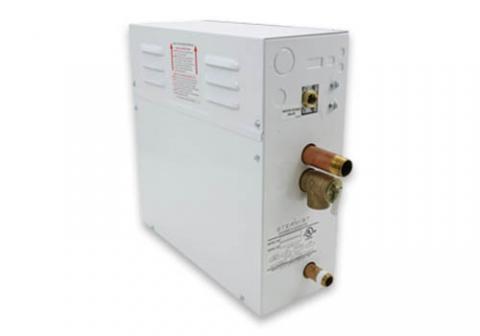 Steamist Home Steam Generators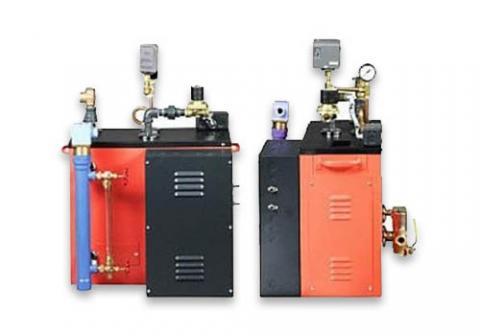 Steamist Club Steam Room Boilers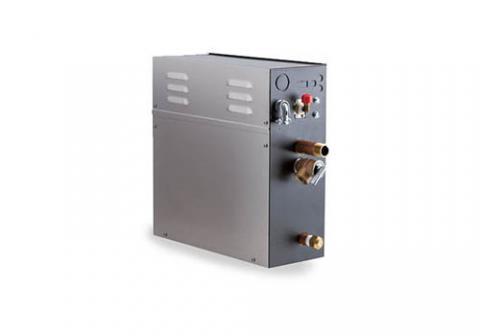 Steamist Spa Steam Generators
Steamist produces residential steam bath generators for homes, commercial steam room boilers for clubs, and steam bath generators for day spas. Homeowners and commercial facilities use Steamist steam room generators to build breathtaking steam showers and commercial bathing spaces.
As a master-stocking distributor of Steamist home and commercial steam shower generators, boilers, and parts, SteamSaunaBath guarantees the lowest price and, more importantly, we stand behind your purchase with unmatched technical assistance and product support amassed from our half-century of experience in steam shower bathing.
Steamist Steam Bath Generators for Home Steam Showers
Homeowners rely on Steamist's energy-efficient steambath generators to create exhilarating and tranquilizing home steam rooms because of their long-lasting performance and reliability. Steamist's SM Plus and Total Sense lines are extremely efficient and are designed to save water. Steamist home steam generators use less than one gallon of water throughout a standard 20-minute steam bath.
Home steam bathers choose Steamist SM Plus and Total Sense steam shower generators because of their cutting-edge features that help create a relaxing and restorative steam bath. Steamist steam shower generators include features such as a stainless steel tank for years of dependable operation, diagnostic LED displays, industrial grade heating elements, solid-state circuitry, modular "snap-in" control connections, low voltage safety control circuits, durable electronic components, and an electronic water-level control system. SteamSaunaBath recommends purchasing an automatic drain system with your Steamist SM Plus or Total Sense steam bath generator unit. Drain systems purge the steam generator after each use to prevent calcification and lime build-up.
The Steamist SM Plus steam generator is perfect for homeowners that want to build a regular steam shower with some enhancements. If you are looking to build a custom steam shower experience with enhancements, our Project Coordinators recommend Steamist Total Sense steam bath generators. This line allows bathers to customize their steam rooms with aroma oils, colored Chromatherapy mood lights, shower fixtures, and audio.
Steamist TSG Series Steam Bath Generator Features:
SteadySteam – Modulates steam output to prevent temperature spikes during the steam bath session
InstaMist – Provides bathers with quick-response steam to help jumpstart the steam shower experience
mySteamist – A mobile app for iPhone and Android devices that gives bathers the capability to control their Steamist steam generator from anywhere in the home
Spa Options – Control over steam spa options such as AromaSense, ChromaSense, ShowerSense, or AudioSense
Steamist home steam shower generators feature power ratings between 5 to 15 kilowatts and are engineered to power steam rooms with between 40 to 675 adjusted cubic feet. SteamSaunaBath recommends choosing a steam bath generator with a proper power rating for the area of your bathing space. Bathers can use our Steamist steam bath sizing tool to find a Steamist generator that is appropriate for their space.
Steamist steam shower generators can be installed in almost any location in your home. Common installation locations for Steamist steam bath generators include basements, closets, heated attics, cabinets, walls, and crawl spaces. Refer to Steamist's guidelines before choosing an installation location.
View our selection of Steamist SM Plus and Total Sense home steam bath generators.
Steamist Steam Room Generators and Electric boiler units for Commercial Health Clubs and Spas
Steamist commercial energy-efficient steamroom generators and steam shower boilers are designed for heavy-duty steam rooms. They are built for clubs and spas that keep their bathing space in constant operation. Commercial facilities leverage Steamist products to create impeccable steam bathing enclosures for their guests.
Steamist Electric Steam Room Boilers for Health Club Steam Rooms
Steamist's HC line of energy-efficient steam room electric boiler systems are used to power the most demanding commercial club steam rooms. Each HC steam room boiler is completely automated and requires little maintenance. Commercial facilities choose Steamist electric steam room boilers because of they are easy to program for energy-efficiency. Health clubs can power up to 2 steam rooms with a HC steam shower boiler by purchasing an additional secondary control package.
The HC series of high-efficiency electric steam boilers feature power ratings between 9 to 48 kilowatts. Steamist steam shower boilers are engineered for commercial club steam rooms with dimensions between 40 to 2,000 cubic feet. Health club facility managers should choose a steam shower boiler unit with a power rating that is suitable for their steam room.
View our catalog of Steamist commercial club steam room boilers.
Steamist Steam Bath Generators for Spas
Day spas use Steamist Day Spa series steambath generators that are designed to power demanding commercial spa steam rooms. Each Day Spa steam shower generator features an intuitive setup for easy on-site maintenance and hands-off operation. Steamist's Day Spa line of steam room generators feature power ratings between 5 to 15 kilowatts and are built for bathing spaces between 40 to 550 adjusted cubic feet. Day spas should use a steam bath generator that works well with their steam shower.
View SteamSaunaBath's selection of Steamist commercial spa steam bath generators.
Contact SteamSaunaBath
Call SteamSaunaBath at (800) 707-2862 or fill out a contact form if you are interested in learning more about Steamist equipment or building a steam room. Our Account Managers will work with you to find a Steamist steam bath generator or steam room boiler that fits your needs.