Bathology Brilliance 360-48
Sauna, Dotless LED White Light Fixture, 48"
Illuminate your Sauna with the Brilliance 360 Dimmable 48" LED light bar. Continuous LED light with no spots. Articulated hinges allow the angle of the bar to be adjusted as needed. Also available in 12", 24", 36", and 60" lengths.
Required Spectrum 360 Control System sold separately.
Limit of 4 Fixtures per control system.
Create sophisticated and inviting ambient lighting effects in your sauna with Bathology Brilliance 360 linear LED light strips. These continuous LED bars feature an integrated diffusing lens to create a more upscale, modern, "dotless" effect. The articulating hinges allow the light to be aimed precisely to create the perfect illumination and mood lighting.
When used with the required Bathology Spectrum 360 control system you have infinite adjustment of brightness of the room with the illuminated, flush-mounted, touch-sensitive power switch. Just tap to turn on or off, or touch-and-hold to dim or brighten.
Available in 12", 24", 36", 48", and 60" lengths. Mix and match lengths to suit your needs.
Required Spectrum 360 Control System sold separately.
Limit of 4 fixtures per control system.
Dot less Led Light Bar

180° Pivot for Precise Adjustment

Touch Activated Illuminated Dimmer

Illuminated Dimmer

Anodized Aluminum Channel
48" LED Light Bar

20' DC Cable

3 – Articulating Mounting Clips
| Model | Brilliance 360-48 |
| --- | --- |
| Operating Voltage | 24VDC |
| Lumens | 920 Lumens |
| Kelvin Temperature | 3000K |
| Dimension | 11/16"W x 7/16"H x 48"L (With Flush C Clips) 1-1/8"H (With Adjustable Mounting Clips) |
| Connection | 20' barrel connector |
| Rating | IP67 |
Required for Operation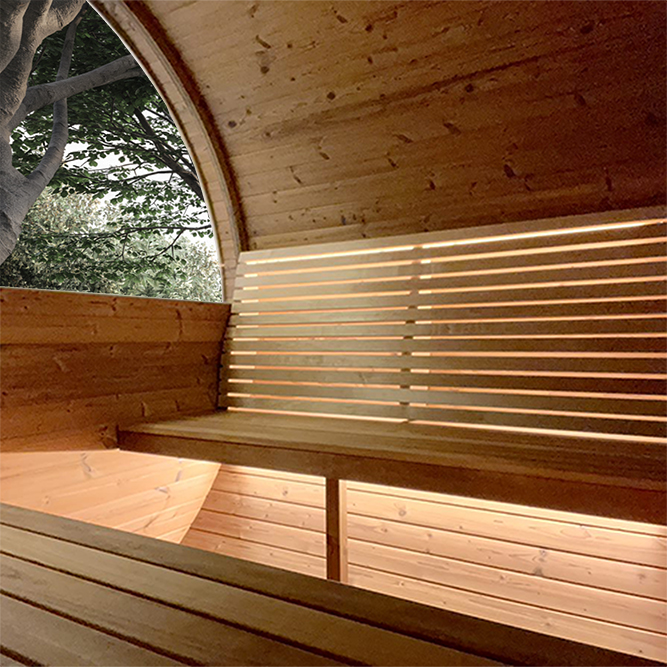 Sauna, Dotless LED Lighting Control, Single Zone
Sauna LED Lighting Control System for use with Bathology Brilliance 360 LED Light Bars. Touch-sensitive illuminated control button controls power and infinite dimming.
Note: Operates up to 4 LED light bars (available in 5 sizes, sold separately below).