Kohler Invigoration steam showers & controls.
In stock now for immediate shipment!
Kohler is a recognized leader in bathing and enhanced steam shower systems. Home bathers choose Kohler steam shower generators because of their superior quality, durability, and dependability. SteamSaunaBath carries the industry's best selection of Kohler steam bath generators, controls, and accessories in our 56,000 square-foot master-stocking distribution center.
FREE SHIPPING (Lower 48)
LOWEST PRICE GUARANTEE - If you see a lower price, we'll beat it!
NO SALES TAX (Except IL)
| | | | |
| --- | --- | --- | --- |
|   | Kohler Invigoration Series Generators |   | Kohler Control Kits, Steam Shower Valves, & Accessories |
Low Prices on all Kohler Steam Generator Systems & Packages
Kohler Invigoration steam generators feature a variety of exclusive features that contribute to a more dynamic, enjoyable bathing experience. Each generator is equipped with Fast-Response technology which generates steam quickly, safely, and efficiently. Kohler generators are crafted of insulated stainless-steel for long-lasting durability and dependability.
Kohler Invigoration generators include the patented Power Clean system which automatically drains sediment from the unit each bathing session. Kohler steam bath generators are an eco-conscious option, using only one gallon of water during a typical 20-minute bath.
Kohler Invigoration Series generators are available with power ratings from 3 to 15 kilowatts. Select a steam shower unit with features that best meet your unique bathing needs.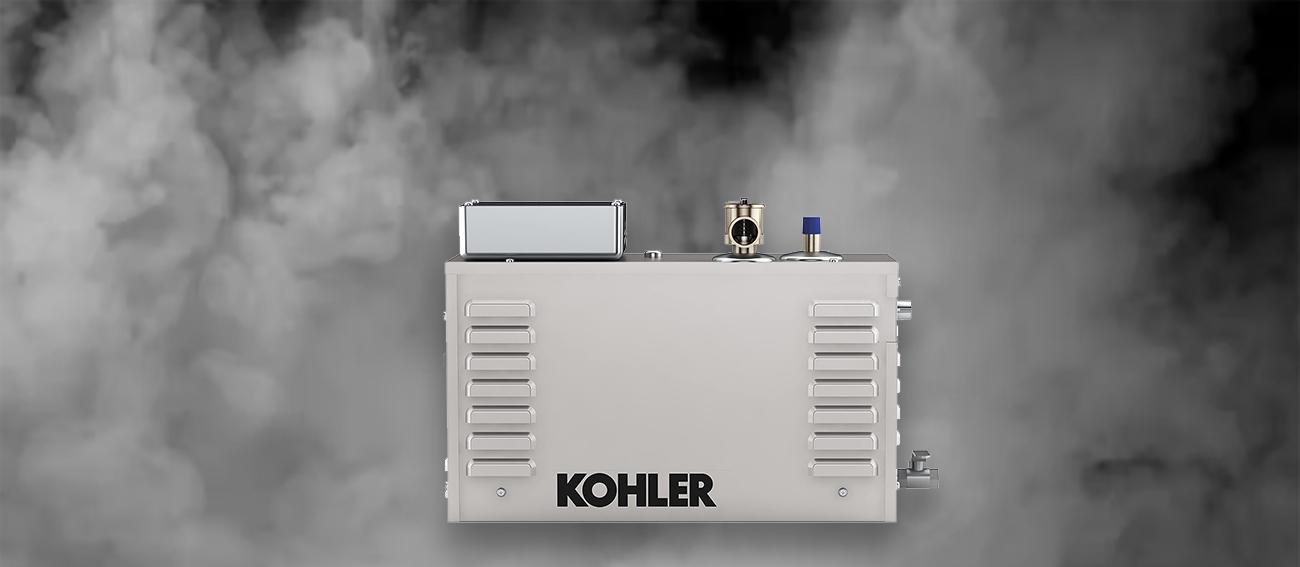 Kohler Steam Shower Controls
Kohler steam generator controls are designed for use with Invigoration Series generators. Kohler controls put bather in complete control of their bathing experience, transforming each steam session into a relaxing spa-like oasis.
Kohler controls provide control of steam bath functionality such as temperature and duration. Each package includes a steam head with an integrated aromatherapy oil well, which allows users to add fragrances to each bath session. Kohler control kits are available in a variety of designer finishes. Select the finish that best suits your preferences.
| | |
| --- | --- |
| •  | Polished Chrome |
| •  | Polished Bronze |
| •  | Brushed Nickel |
| •  | Polished Nickel |
Kohler Digital Shower Valve
The Kohler DTV Prompt Digital shower system provides the ultimate convenience and functionality with a variety of unique features. This advanced shower valve offers independent control of hand showers, body sprays, rain heads, and shower heads. The system allows bathers to adjust temperature, water flow, warm-up times, and much more at the push of a button.
Kohler Shower Accessories
Kohler shower accessories are an essential component of creating the optimal steam bath environment and bathing experience. Kohler's durable, stainless-steel drip pans are designed to help prevent any water damage. Kohler drip pans work with all Invigoration Series steam generators.
Kohler Technical Support & Installation Support
Our technical bathing experts have hands-on experience with every type of Kohler shower equipment. We can provide Kohler troubleshooting, installation, and repair support to ensure that your equipment performs optimally. We have all Kohler installation and operation manuals and can answer any questions about your equipment.
For Kohler troubleshooting, manuals, or installation assistance, call us by phone at (800) 707-2862 or fill out a Service Request Form. Our Account Managers will help you find a local trade professional in your area to troubleshoot your Kohler steam unit.
Contact SteamSaunaBath
Call SteamSaunaBath at (800) 707-2862 or fill out a contact form if you are interested in learning more about Kohler steam generators. SteamSaunaBath specializes in steam room and sauna design, sales, installation, construction, maintenance, and repair services. Our half-century of experience with Kohler and other renowned brands means that we are uniquely qualified to ensure the success of your bathing space and an unparalleled steam bathing experience.